Services - Repairs
We offer complete repair services including, belt replacements, A/C service, cooling system service , transmission service, differential service and fuel injection service.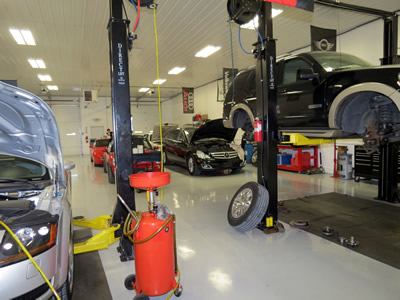 Cooling and Heating Systems: complete radiator repair, automotive cooling fan diagnosis and repair, radiator replacement, cooling system diagnostics, coolant hose/line check and repair and radiator hose replacement.
Brake Services: Complete brake repair including brake pads replacement, rotor replacement, drum replacement, anti-lock brake system diagnosis and repair, brake system flush and bleeding and parking brake repair and replacement. .
Complete Battery Services: battery check and replacement, battery cabler eplacement and battery wiring/electrical repair.
Full Exhaust Services: Complete muffler repair, exhaust diagnosis/repair/replacement and catalytic converter services.
Misc. Automotive Repair Shop Services: check engine light troubleshooting, computer diagnostics, gas tank repair, power window repair, auto AC repair, complete automotive wheel repair, complete automotive electrical repair and full dash repair. hi-performance, and classics services.