About Rudy
Solving automotive safety and performance problems – or even simple inconvenience issues  – is what Rudy's European Motorcars LLC does for its customers.
We are the area's premiere service center for European automotive repair services. My focus is on diagnostics – treating what's causing a problem, not the symptoms.
The shop services Audi, Bentley, BMW, Jaguar, Mercedes Benz, Mini Cooper, Porsche, Rolls Royce, Volkswagen and Volvo. Rudy also has experience working on Ferraris and Maseratis, cars some consider exotic.
Rudy has been working on European cars since he was in his teens and was driving them even younger. "I'd sit in my sister's lap and steer her Triumph TR-6," he said. He operated a European car repair shop in Jupiter, Fla. for 13 years where he would routinely repair makes such as BMW, Bentley, Jaguar and Rolls Royce.
Using skills and knowledge gained over more than 30 years, Rudy specializes in diagnosing and repairing problems that have left other mechanics stumped.
Auto service repairs include oil changes, transmission service, engine work and what Rudy calls inconvenience problems. If you're having intermittent starting problems or the interior lights are dim or won't come on, we will diagnose the problem and fix it. Sometimes it can be very difficult to track a problem down.
Car owners should heed information from their vehicle's dashboard lights. Any time the check engine light comes on, you can't ignore it,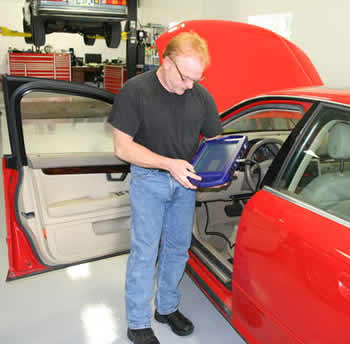 In newer vehicles, the check engine light is linked to several electronic modules controlling numerous functions including engine emissions, transmission shift points, throttle control, anti-lock braking systems, airbags and the immobilizer, which deters theft. A malfunctioning immobilizer module can also prevent an owner from using the vehicle.
We use on-board diagnostic scan tools to boost accuracy of his diagnosis. The scan tool plugs into a special port in the vehicle, communicates with the car's modules and in a few minutes provides a list of fault codes. The code itself doesn't solve the problem. Interpreting fault codes is the skill Rudy brings to bear on the problem.
He uses genuine brand parts, and he doesn't allow customers to provide parts. Rudy said he repairs cars to be exactly as they were when they left the factory, unless an improved alternate repair has been established.
In summary, Rudy says that "I'm very big on safety, and I document my work. I like things done right".